When does a down-home wedding cost a reported $100,000 and involve an Oscar de la Renta gown?
When you're the first daughter.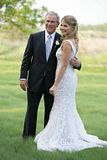 Pictures and stories of Jenna Bush's "low-key" wedding overflowed the Internet this weekend. (I am sure the 100K price tag didn't involve the military security.) And the photos back up the assertion.
Strangely, I agree with that the price tag is modest, in this case. Most people won't need to construct fences to protect against prying eyes, hire security (in addition to the government provided version) and bus guests to the site, in the same way. Yes, it was a big price-tag dress, but it's not like she booked out the D.C. Four Seasons for the weekend.
Now, a lot of people are pissed off because the Bush twin's wedding didn't have the same media access as a lot of celebrity weddings. But let's face it, most celebrities aren't going back to teach a classroom full of kids after their nuptials. In fact, if Jenna had a mega wedding, how would she be able to do her job -- which is not being a celebrity -- with paps hanging around?
Can you imagine six months from now, kids being questioned by E! or The Insider about whether their teacher's new marriage is in jeopardy?

I am not a fan of pappy Bush, but applaud Jenna for holding her ground on this one.