If there is a time where you need to see a situation clearly, I suspect it's leading up to your wedding.
But, OH MY GOD, doesn't everyone look great with the soft-focus lens affect of a veil over them? Maybe it's the time RIGHT BEFORE you walk down the aisle you need to see clearly. Perhaps, at the altar, visualization is good enough.

All my interest in veils was triggered by seeing Carrie Bradshaw behind a head dress of exaggerated tulle in the Sex in the City previews. And got me thinking...and checking them out.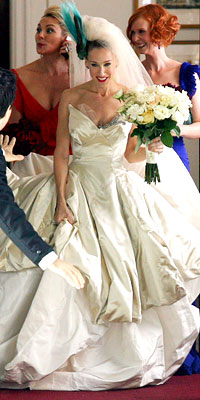 Before you think that I am going to attempt a Sex in the City veil, let me clarify something. I get that ONLY Carrie could handle this frothy dress topped whimsical feathers, without audience members thinking a blue jay landed on her head. I know, I know...the problem with these movies is people start thinking they can carry (no pun intended) off the same wackiness.
Someone will try the Carrie look, trust me. It just won't be at my wedding.
So in looking for a real-world veil, I started pouring at websites and magazines, while also talking to a few veil-wearing brides about their wedding day.
A few thoughts on veils...
1.) When looking at fashion magazines, a friend reminded me, remember it's the concept they're after.
They call these bird cage veils. Of course this scrap looks like a flock took off with most of it!
2.) Here's a tip from my sis about veils: A common side effect of a veil is whiplash! Yup, it's just not for the car anymore. When someone puts your arms around you as you're wearing one of these long things, it inevitably rips your head back!
Don't let the photo fool you.

3.) There is a new sassy alternative to veils: hip hats. This stylish top hat, for example, has more panache than the floppy 1970s hats.
I just wonder how he feels if your, er, hat is bigger than his.
As cool as this looks though, it's just "Carrie" enough that most of us won't be able to get away with it!